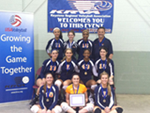 • Member
Registration
•Junior Girls
•Junior Boys
•Adults
•Club Directors
•Documents/Forms
•Contact Us
Frequently Asked Questions FAQ
Welcome to the F.A.Q. (frequently asked questions) portion of the site.
This is an on-going list and will be updated as more questions come in. If you have a question you think should be on the F.A.Q., please send it to webmaster@krva.org.
Please check back regularly.
General KRVA F.A.Q.
Q1.
I have a coach who is not showing up as IMPACT or CAP certified. Who do I contact to verify or change this?
Registration F.A.Q.
Q1.
I would like to send a check payment to the region, what is the address I should use?
Q2.
My club affiliation is incorrect, how do I change it?
Q3.
As a Club Director, may I register my coach or does he/she have to register themselves?