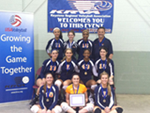 • Member
Registration
•Junior Girls
•Junior Boys
•Adults
•Club Directors
•Documents/Forms
•Contact Us
Contact Us
KRVA Business Office
2443 Saddlebrook Rd.
Macungie, PA 18062
(610) 401-3362

EMAIL: registration@krva.org All registration issues: Membership Club Registration Insurance Certificates Information
Need Help?
If you are having troubles with the site or have questions in general, please visit one of the items below. You can also check the F.A.Q. page (support menu above), as your question will most likely be answered there. If you have read the F.A.Q. and the registration manual (located here), then please send a mail to one of the following:
Registration Issues - Registration@KRVA.org (Webpoint errors, Club/Team/Member issues, Payment questions)
Website Issues - Webmaster@KRVA.org (This site only. Not for WebPoint or Event System!) (Missing data, information incorrect, information to be added)
Event System Issues - Events@KRVA.org (Tournament registration questions, error, or concerns)
Event Management Issues - events@KRVA.org (Running or how to get an event sanctioned, event problems or concerns)
*please note that support will assume you have read the FAQ and registration manuals before you call. It is highly recommended that every member read those documents before contacting support.