Products
Trap Voice Release System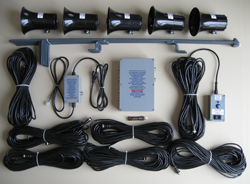 Complete Trap System
£695.00
all in.
Free delivery to mainland UK
Our state-of-the-art digital Trap Voice Release System is SIMPLE to set up and very easy to operate. Each of the 5 microphones operates continuously, so there is no need to sequence, adjust or reset the system if you have a "NO BIRD" or even a short squad.
Product Specifications
VERSATILE - For use in DTL, Ball Trap, True Pairs etc.
- Easy set up and removal.


SET UP - Just plug in the power supply and microphones.
Connect to the release button cable of any trap and it's ready.


OPERATE - No complicated settings or adjustments.


POWER - 12V,120V & 240V options.


ACCURATE - Consistent trap release time - every time.
- Advanced filtering minimizes unwanted noise related triggering.



REDUCED COSTS - No need for a human puller.


CONSTRUCTION - Improved, lightweight, powder coated stands that cannot be blown down or inadvertantly knocked over.


ROBUST AND RELIABLE
Solo Voice Release Systems
These professional grade systems are mounted on one stand and employ one user microphone and will fit any autotrap.
Sporting and trap disciplines ready.
Ideal for the club, training purposes, or personal use, these systems incorporate the same superior background noise elimination as our Trap Voice Release System.
Designed to be free of setup or adjustment complications. Just plug it in and Go! These compact and rugged systems are now available in 12V,120V & 240V versions. Two stock models are available.
Single Solo
This system operates one trap and can be used for the release of singles and following pairs.
Two Trap Solo
This system operates two traps and can be used for the release of singles,following pairs, true pairs and report pairs.
Custom Built Professional Grade Equipment at Affordable Prices
We offer options for either of these systems to be built to suit your specifications, to satisfy any and all of your shooting needs and conditions, such as multiple microphone versions for additional shooters.
All units will be built capable of accepting our new counter system.
Coming Soon
BRB Counter System
In keeping with our belief in easy to operate and use equipment, our new counter system is free of complicated buttons, knobs, or computer menus. This is another "Plug and Go" system made to plug straight into any of our Voice Release Systems, without the need to run additional cables. It is also made for easy connection to other systems. Operation will require no computer science degree, leaving you more time to break clays.
We service, repair and upgrade Canterbury Voice Release Systems, supply high quality aftermarket parts and accessories at UNBEATABLE prices.