Contact Us On:412-773-2128
brbsystemsusa@yahoo.com

We offer FAST, HIGH QUALITY, ECONOMICAL:
Repairs
Upgrades
Servicing
Sales
Spares
On all makes and models including:
Canterbury
Microphones:
The superior quality and rugged manufacturing of these microphones makes sure that you get the best performance from your equipment. Each microphone is individually balanced and tested to insure optimum results every time. Every microphone is supplied with a bracket brace for additional support. Now with a stainless steel reinforced rear and shock absorbing compound lined interior, to make these microphones practically unbreakable.
Price per microphone

$40

Price per set of 5

$175
Power Supply
For use with the BRB, Canterbury wired and wireless systems. This unit uses a high grade encapsulated transformer for better durability and lifespan. Available in 12V, 120V & 240V versions.
Microphone Cables (60 ft.)
The exceptional flexibility of these cables and oxygen free copper conductors make for ease of use and enhanced vocal effectiveness.
Price per cable

$40

Price per set of 5 cables

$165
Main Control Box
Suitable for use with both the BRB Systems and the wired Canterbury voice release system. Supplied at an unbeatable price so that you can afford a spare. Our confidence in the quality of this unit lets us offer it with a 2 year full parts and labor warranty.
Button Box
The combination of vandal proof/waterproof stainless steel switches, a rugged shock absorbing compound lined ABS enclosure & 60 ft. of our ultra-flex cable, make this the toughest, best value, button box on the market today.
Price per unit

$125

Button Box Holster per unit

$10
2-3-4 Pin Plugs & Sockets
High quality plugs and sockets for those confident to make their own repairs.
Stands
Premium powder coated stands. Available in two styles:
Weight Plate stands. Price per set of 5

$225

Stake Stands. Price per set of 5

$185
Each system component is designed and manufactured to be 100% compatible with the Canterbury Voice Release System.

BRB Microphone

BRB 110V Power Supply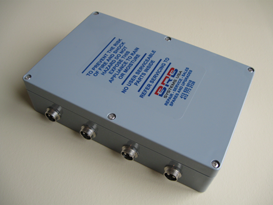 BRB Main Control Box

BRB Button Box

BRB-USA Bases. Two Stand Styles available: Weight Plates & Stakes